Spiritually-aware people want freedom. You may know what I'm talking about, just like plenty of other people who are waking up to see the old system as totally out of balance. When working online it's one thing to get paid per project, but you should seriously start growing a PASSIVE income when freelancing. You want freedom, right?
The meaning of passive income implies creating an income source that will pay you sporadically, periodically, or on a recurring basis, without any time or work invested. Usually this means payment as a commission for referring products from other online businesses.
One of the most important choices I made that led me to have the freedom I wanted was to trust my dreams and leave a job working in a hotel. After 5 years of working the night shift at this city hotel, I finally had enough.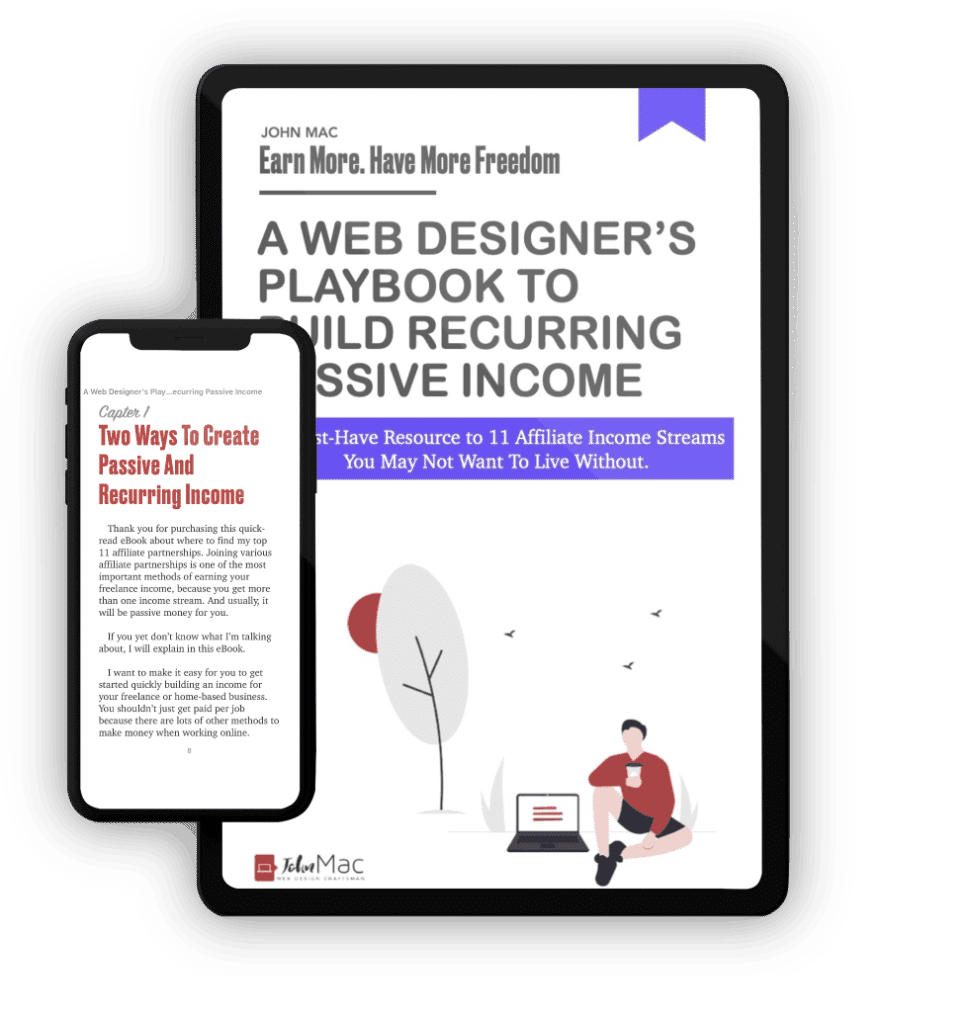 First, I will quickly explain what "passive" and "recurring" income are. Second, I will share the method I have used to create a work-from-anywhere lifestyle with freedom and flexibility.
It's easy, and anyone with a computer can learn how to do it within a week.
What are recurring and passive income?
I think it's good to cover what the difference is between these two terms because you will have to deal with both, and there are differences. In my opinion, one is more "fun" than the other.
First of all, let me cover "recurring income".
Recurring income will be money that you get paid on a recurring basis - like from a client that pays you monthly for a service. That means that there is work involved because you will have to follow up and deliver for the time your client has paid you for.
Passive income is money you get paid monthly, or periodically, but there is no work involved. In case you haven't heard about it and it sounds weird - yes, it's a normal thing on the Internet.
I personally have both recurring and passive income flowing in. My goal is to grow as much passive income as possible. Let me give you two examples of how I do this:
Shopify is paying me about $600 monthly for doing nothing. I recommended Shopify stores to my clients in the past, and I still do. The stores that are active signed up through my affiliate link, or set up through my partner account, give me a 20% monthly commission.
ConvertKit is an email service I recommend to all my clients unless they are truly happy using the one they already have. ConvertKit pays me a 30% monthly recurring commission for every client that signs up using my affiliate link.
I also have other recurring affiliate income every month that is "passive income" because it is running on its own.
To clarify - some of my income is passive because I share my partner or affiliate link online and with my clients. When new customers sign up, I get paid automatically. There's no other work involved.
Sometimes, like with Shopify and ConvertKit, those commissions recur every month - and not just with a one-time commission (which is normal).
Creating Websites - Simple Way to Passive Income when Freelancing
First, here's a beginner's quick blueprint on how to make money creating websites.
After quitting that hotel job, and with greater joy and feeling of purpose, I started my online business. My focus at that time was creating websites, and getting jobs was rather easy.
They just came to me as soon as I did my first 2-3 projects. I guess it was mostly through word of mouth.
I started from ground zero. My first few websites looked like a really bad dream. At that time I used manual HTML combined with "Dreamweaver" and Photoshop (lol!).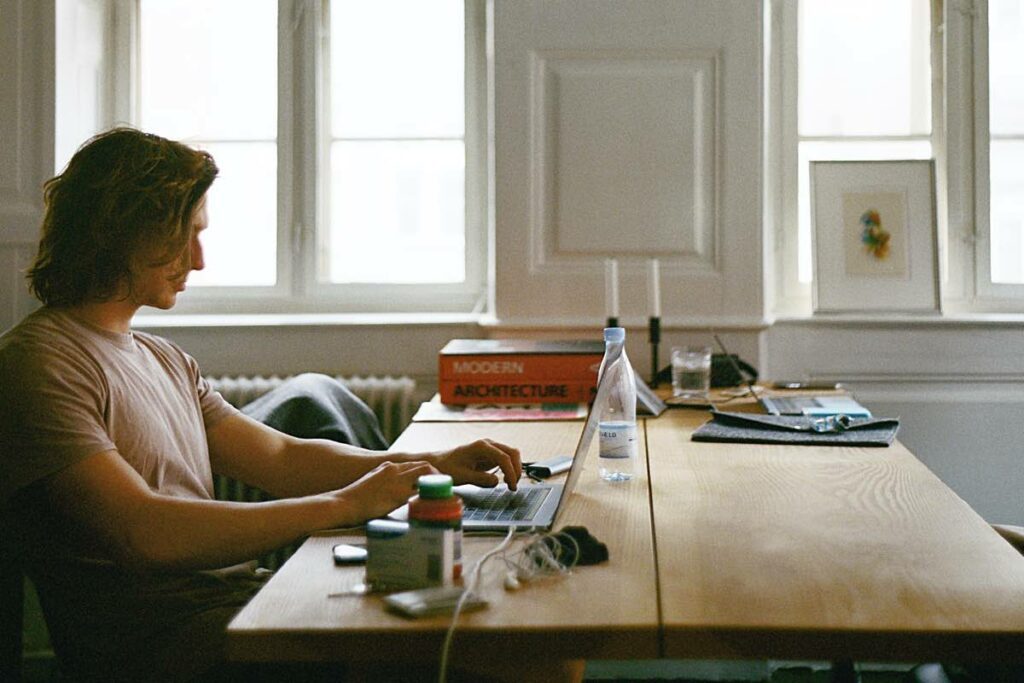 That's not how it is done now. You don't need any coding or design skills at all to built beautiful websites and get paid for them.
Now, earning a part-time or full-time income creating websites is not all that hard. Like I said at the beginning - it's one thing getting paid for the project itself, but you shouldn't just get paid one time for the job. You should also add on with passive income!
What I have discovered in my "Accelerate to Freedom" Coaching, and by talking to beginners, is that most newbies to this business do not focus on growing their passive and recurring income streams.
Unfortunately, I have also seen this in well-established freelancers and Digital Nomads.
Learn How to Grow Your Passive Income While Freelancing
In this article, I'm going to show you MY method of creating a solid income by working online, from anywhere. However, there are lots of other different services around that can do this as well.
My trade is Web Design, and now, compared to a few years ago, it's pretty easy to do.
If you have a laptop or home computer with an Internet connection, you're basically set up to build websites.
When building a website for a client you normally get paid for that one single project. Maybe you split the payment up into a 50/50 percentage, or maybe a 70/30 before and after. When the job is done though, that's it.
So to stabilize your future freedom, learn the clever ways of growing your passive income when freelancing. So if you already do work online, make sure you learn the various methods to start growing your income streams as well.
And it's not just for Freelancers and Digital Nomads building websites. You may have the skill to do graphic design, copywriting, coding, photo editing, marketing, social media management, or other digital content.
With most types of work, there are services you can offer and tools online you can promote to clients that will bring you that extra stream of income. Basically, a type of income that only can grow over time.
The following article about how to build a passive income working online will show you some of the steps I'm talking about.
I also wrote a quick-read eBook teaching complete beginners the workflow on how to grow passive income. It will also give you the 11 most important recurring and passive income streams I make money from now.
For a case study in this, here's an article about Sean Martin, a clever guy that I supported through coaching. I showed him how to start a podcast and set up his online business.
You want to decide your own work hours and choose what to spend your precious time on. What are your options in life when a 9-5 job is less tempting? And the school system sucks? In this article, I will share my online business mentorship strategy where I take a traveling nomad from a blank slate to a complete online business platform for him as a storyteller.
Online Business Mentorship planning - here's what to expect
Before I move into presenting my friend and the methods I use in my coaching for this project, I would first like you to read about a topic YOU might recognize in your own life;
The need to break out and find freedom. The ugliness of feeling stuck.
Also, I will bring some advice on the first steps you can take to start having major positive changes coming into your life.
But first, let me quickly clarify and sum-up the project I'm working on here.
Goal: Help my buddy launch his dream business and start a freedom platform
Okay, so before I continue with the story of who my friend is and how I will be working with him, here is a quick sum-up of what we are up to. I hope this can inspire some ideas for you to plan out your next steps in life.
Tip: Sign up here so I can send you updates on Sean's progress:
So here's what we are up to:
Project: Launching a new podcast and website as my buddy's new business.
Strategy: To built and launch this online business with as low cost as possible
Purpose: To create a completely virtual business platform for my buddy to keep his freedom as a traveler by building new income streams from a global audience.
So to start a new online business by creating this platform, here's a quick line-up of what I will be suggesting in my training and coaching with him.
A new website as the main hub for the business and brand
A new podcast channel
A new YouTube channel to support the podcast channel and website
An email newsletter to stay in touch with and inspire his subscribers
Coach him through defining his top skills and services that he can make an income from (both client/project-based and recurring)
Coach him through how to productively run his business with the right tools.
How to grow by connecting with the right people in a fitting industry
Okay, so we made a deal here - We're making a film
After a couple of cups of coffee, I noticed how interesting a character my buddy is. I also started seeing his hidden qualities and potentials which triggered ideas on how he could take charge if his life and built his own self-made salary instead of hustling with sporadic jobs.
This brought to life an idea in my hyperactive brain to make a film and have this project become a case study and example for other people.
So yes, we're making a film about my coaching scenario and the process and workflow of this project. (Visit my YouTube channel here)
I'm happy my buddy accepted the invitation to be my case-study for my YouTube subscribers and tribe. We're making this film to document the process and show others how to create something out of one's passion and use it to bring in a second or full-time income. Or to simply make positive changes and shift their reality.
Okay, so if you are inspired to "break out" and make a big change in your own life, what are the steps to take?
First I wanted to run through a topic that I know is very common on this planet. But it's not always openly talked about. And not everybody wants to admit to it.
Identifying the Silent Depression of being stuck in a Job, the School, or the "System"
If you feel stuck in life and are looking for a purpose and something meaningful to invest your time in, this article will be worth reading now or saving for later.
I'm sitting at a Starbucks café in Chiang Mai, Thailand. It's my office for the day as with many other people with laptops around sitting here.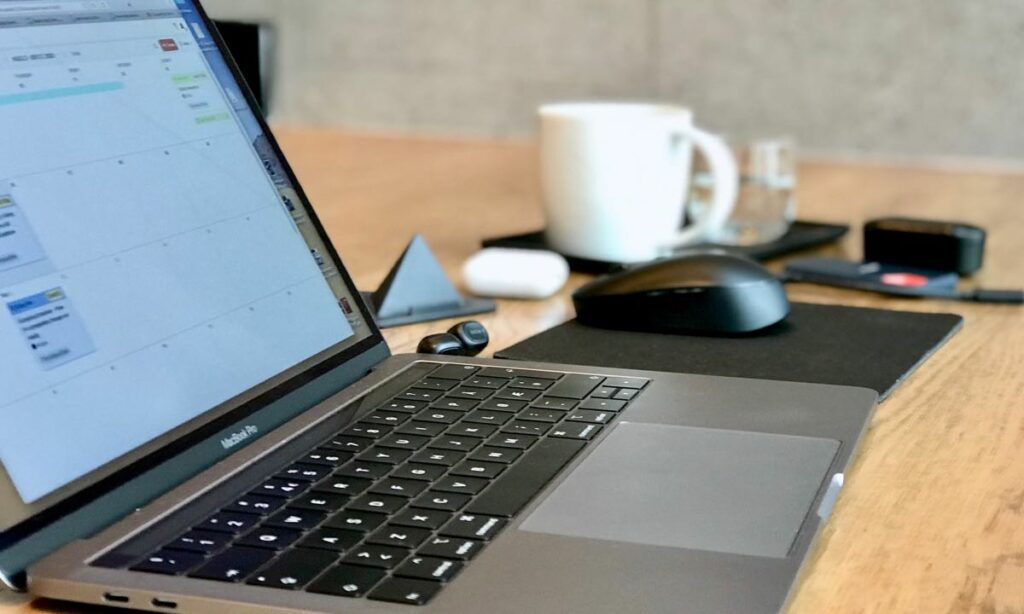 I'm living my freedom. I have the quality of life that I want. And I love being able to help other people go against society's norms, rebel, and to have the same lifestyle if that is what they desire.
But to help people I need to make sure that I do that in a manner that will have a deeper impact. During our conversations, we start with the foundation of who the person is, the deeper side of life, and their personal stories. If you came to me asking for help and just want the shallow fluffy advice you can find anywhere else, don't bother asking.
But If I could help you on a deeper level combined with practical advice I would love to share some tips by having you join my tribe below.
I'm about to share with you my coaching details on how to help my buddy go from frustration, uncertainty, and the feeling of being stuck in a "system", to finally live out a dream he has had for some time.
His story is an example of how a lot of people feel lost in the two main areas of our lives that most of us live through: Having a job and going to school.
But there is also another emerging symptom going about on this planet:
The need for freedom -do you feel that?
A huge shift is happening on the planet in how the earthlings want to experience life and their reason for being here in this human experience.
And since a big part of our lives evolves around getting an education and making an income to stay alive and have a safe place to live, those two life arenas may bring about some form of limitations and entrapments.
The two main life arenas limiting us are:
Working and earning a flat salary for someone else from 9-5 keeping you stuck in one location doing tasks you don't really care about.
The school system sucks, leaves you burned out, with dept, and no guarantee for the success you're promised.
At least for the majority of the population, it seems. The study that was done in the U.S and U.K on the well-being and happiness level of those being traditionally employed shows that 70-80% of employees don't give a shit about their jobs.
They simply work to stay alive. Serving their masters while putting their own lives and dreams on hold.
That's a lot of negative energy in each country! It's easy to see part of the reason why the U.S and the U.K have become a mess and is falling apart.
Let it. It's obvious what's needed to make change happen.
Are you a rebel in the awakening process?
One thing I have noticed over the last years is that people with a higher level of awareness, a deeper connection to life, and their own spirituality, have an even greater need for freedom.
And part of the reason is that with a higher level of awareness and when going through the "awakening process", you're starting to see through the messed up illusion of the typical norms and traditional ways of living.
That makes you want to break out of the madness and do your own thing! And because you're not so easily fooled by the system any longer, what are the options to chose a different path?
What's our choice on how to educate ourselves or to find a better way of making an income?
Well, there are big things happening on the planet. And it's a topic for another article. But just know that you have more choices than you 'think'.
There are a lot of ways to work and make a living. My specialty and the big topic of interest is to help people who are going through this awakening and don't want to comply with the norm anymore. I help them re-discover themself and ponder new sides and different perspectives of themself and their life situation. And maybe, to build their own income and have more freedom.
This is why I want to write this article to show the process in the coaching and training I do for my friend. Like me, he is also currently living in Thailand. So we get to work "on location" for this project.
Take charge of the future and create a "ticket to freedom"
Something so many people want but don't know how to make happen. So they suffer in silence and just stick with what's always been perceived as "safe" and secure;
That MORE education will save your ass. Or, simply put life in a hell-loop and stick with the same mundane job month after month. Slowly draining your life force making you want to go home to your loft and whip yourself as the Opus Dei disciple, Silas.
So let's talk about what steps can be taken to start having positive change happen in our lives. After that, we finally move on to look at the plan that will change my friend's life going forward.
What's the first thing we need to think about, identify, and take action on to be able to make a change in life and move into another timeline?
Positive change accelerates with a step-by-step plan and guidance
Of course, having someone to support and guide you with a step-by-step plan accelerates these changes and makes the progress happen even faster.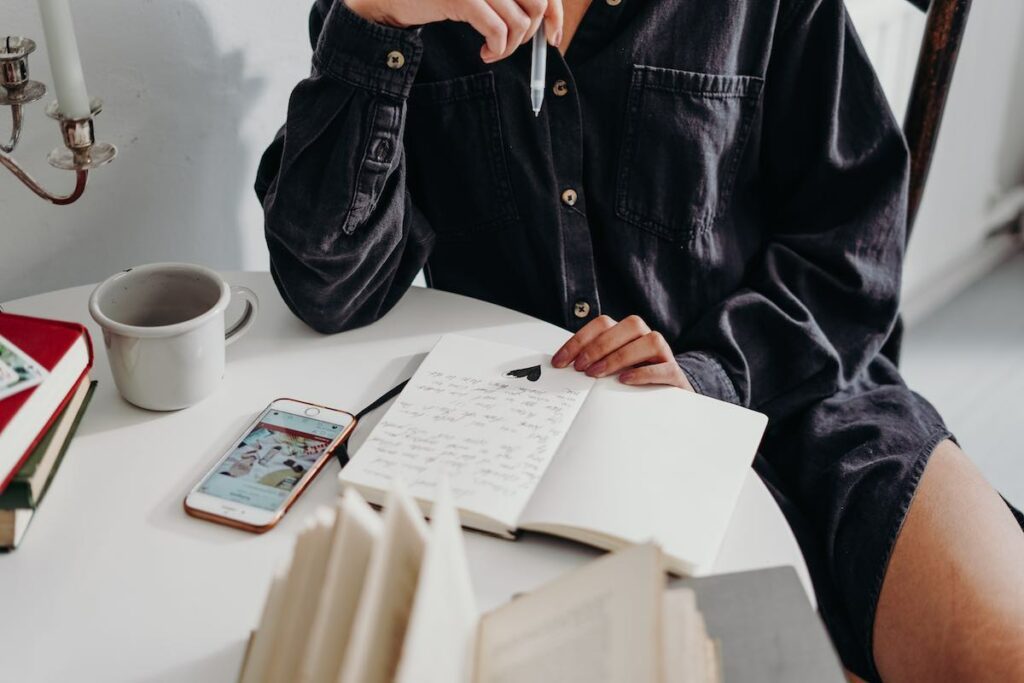 Like in this case with my buddy; He will be handed a ready-made roadmap with a step-by-step progress plan to follow. This will be very effective for him for several reasons:
He knows the destination and will have the map to get there
He clearly sees the exact steps to take and can start taking action
He will be supported by being held accountable for his progress
Sean is part of The Tribe as part of my program where he will work with other members building their own shift in life.
Being part of my program brings some perks of being connected to a larger community and established creators to grow faster.
But before I put together the new business plan for him, I had to gather and know a little bit more details. And try to dig deeper to hit a sweet-spot that awakens his smile and connect with deeper values and his dreams.
We have to make sure we built something he got a passion for. And the same would be for you if you're wanting to raise your living standards and shift into a more vibrant and positive reality.
Don't comply with what your family, friends, or society expect from you. But fully comply with what YOU expect from you.
You will be doing a deliberate timeline shift.
This is when you decide to take charge of your future and create changes in your life so profound that you're close to shifting into another reality. You're jumping timelines.
I have done it. I have seen other people do it. And I like motivating my fellow conscious earthlings to make it happen for them.
How do "jumping timelines" work?
Well, as long as you know that you want a change in life and seek to find opportunities, something changes in your energy signature. And when you're ready and willing to make changes for the better, we could say that your "frequency" naturally changes as well.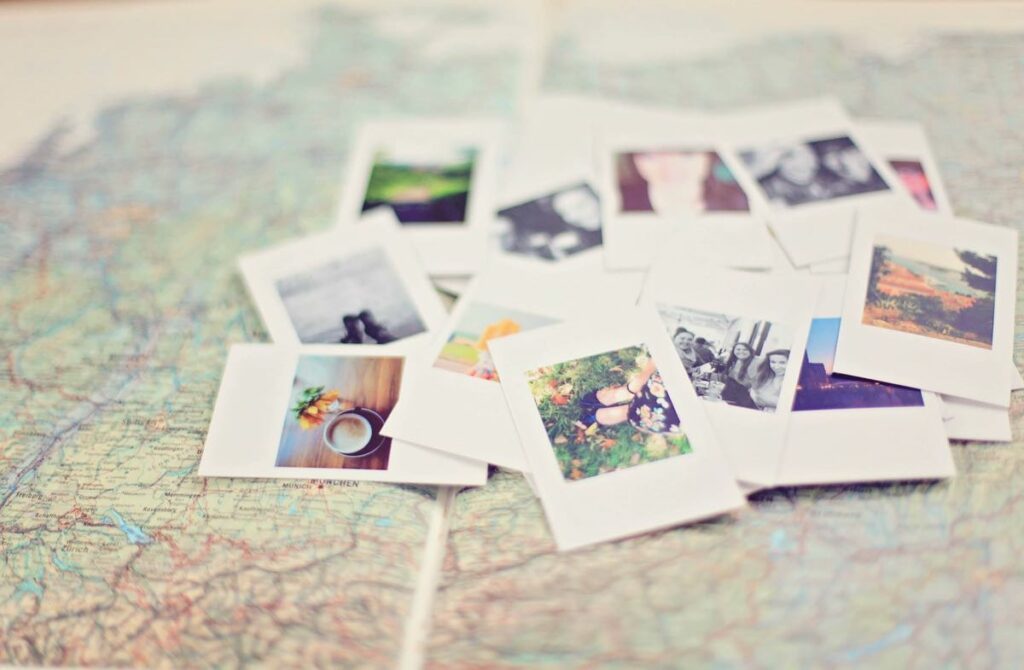 This means that your tuning will be different and you will gradually move into a different really. This is why it's very important to keep focusing on the right things in life and picture the outcome you wish to have.
One major advice I need to share with you will have a big impact on this positive change:
Tweak and optimize what you allow to influence your life!
This includes several types of "input". It will include your friends and social network. Who do you allow to influence your daily life and outcome for your future?
It also includes what you allow to affect your mind and emotional state. Start filtering out the news, Netflix, social-fucking-media, and dumb entertainment.
And it includes what you put in your mouth and on your body. Do you eat shit-food and allow toxic products in and ON your body?
Basically, raise your personal standards and start spending time with more likeminded people and make sure you eat food that brings life force into your body and mind.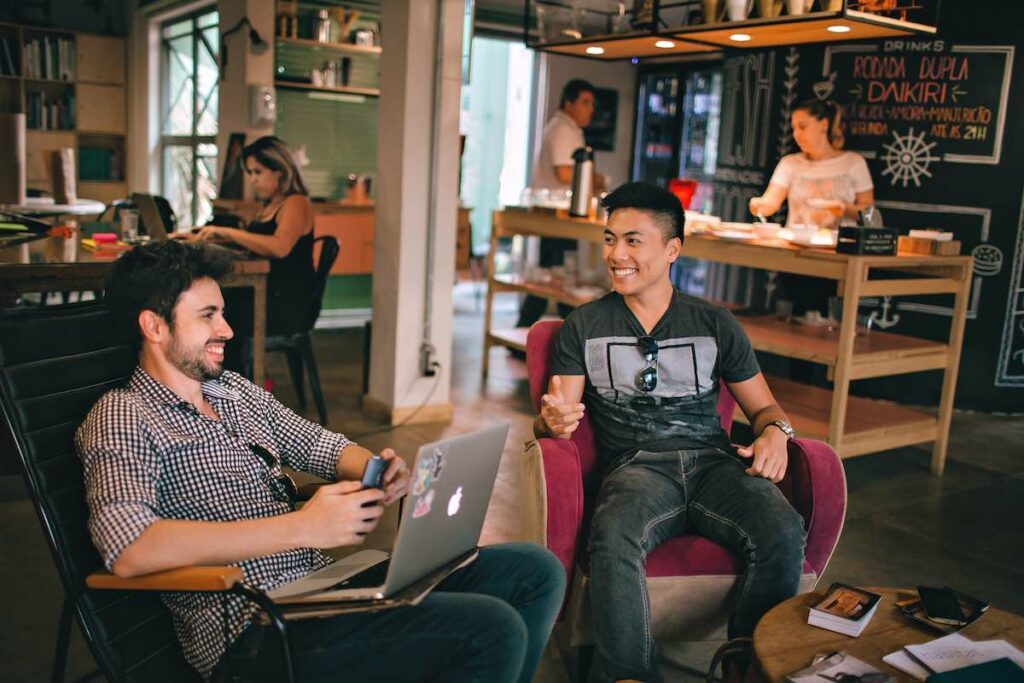 To help bright minds who miss a network of more self-aware and conscious people, you're invited to become a member of my Tribe. You'll be invited to join two live video co-working sessions each month. Doing this, your goals and dreams will shift and accelerate. Check out details about the Tribe here.
Now, let me present to you the star of the show. A great man I wish great fortune, blessings, and a proud unicorn that can take him into the future.
Meet a guy who's about to jump timelines to change his life and start his dream business
Okay, let's get to the tasty stuff in this article. The guy you're about to meet accepted my invitation to experience my coaching concept and program to make all his mornings sunny bright and fun again.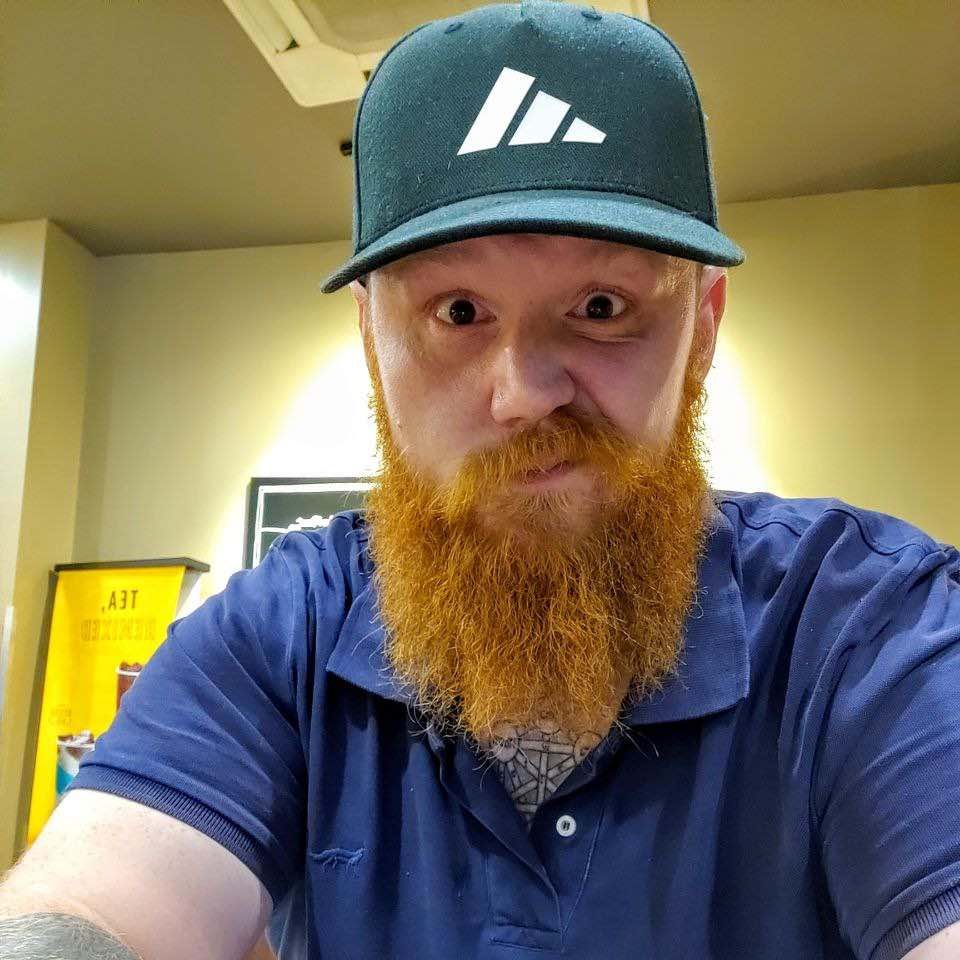 Meet Sean Martin
The guy with the reddest beard, some amazing travel stories, and deep insights about life's unfolding reality and why your life story matters.
We had a coffee at Yesterday's Hotel here in Chiang Mai. I shared my own background, my experiences, and knowledge about the freelance lifestyle.
When talking to people like this, a flow of creativity kicks in. So I suggested some ideas on how to built a business and put together a step-by-step plan for him. He was interested and decided to sign up for this journey and make shit happen.
We're starting out online business mentorship planning together.
What is it that Sean REALLY want? What do YOU really want in life?
Sean is a smart guy that loves traveling, connecting new people, and sharing stories. He also has a deep interest in the human experience here on the planet and loves talking philosophy, metaphysical concepts, spirituality, and personal development.
He is good at helping people understand the importance of their personal life stories and why they matter so they can get closer to their purpose in life. This helps them to make better choices to start to manifest more happiness and synchronicities.
Sean is also a researcher and writer which has led him to get paid for his author services. A quality that I wanted to put a note on for his coaching program and new business plan.
After years of traveling, he ended up in Chiang Mai, Thailand. So far, every traveler I have met in this city love Chiang Mai and don't want to leave.
The quality of life he found in Thailand mattered more than moving back to the U.S simply because that's where he came from. As he said himself, "I don't belong in that chaos anymore". Just like 100% of people from the U.S and U.K I have met so far in Chiang Mai. Nobody wants to go back to the "madness".
I get that.
What Sean really wants is to be able to choose is reality. That includes having an inspiring lifestyle with likeminded individuals and to do work that he got a passion for.
"Great" -I said.
"Let's do something about that. I know exactly how we can craft a clever plan for you to cultivate your skills and start building some income streams"
So it began. And this is how it can shift and begin to change for you as well.
How I crafted the plan to start his online business
After another great meeting a few days after, I felt that I knew enough to paint a picture of what I could suggest and offer to built for Sean.
And the funny thing is that it seems that I hit on something tasty right from the start. I remember during our first meeting at Yesterday's Cafe I suddenly spitted out to Sean:
"Have you ever considered using your voice to share those stories and your life lessons on a podcast?...
That was the moment where I found what his passion REALLY was. He confirmed by saying that that he always wanted to be a story-teller and share his travel experiences and life philosophy to the world.
The suggestion of starting a podcast was showing me signs of excitement with Sean. So I continued to play with ideas and solutions because conversations like this are like a creative trigger for me. And ideas, possibilities, and solutions just start to flow.
This is how I started crafting the plan and concept for a completely new online platform and business for Sean to share his stories with a global audience. To have guests on his show, and to distribute his message blended with his ability to write in a powerful way.
And here's a more detailed outline of how I put things together into a step-by-step plan for us to work with.
The step-by-step business plan to start a Podcast platform
Great, so let's gather around the campfire and I shall share the details of how this will come to life.
Let's look at some important details I put together about Sean as the "product" of his own business. Take note of these for yourself as you may want to keep this in mind for your own planning.
(Some things obviously won't be revealed until we launch this business in September 2020)
Name: Sean Martin
Facts:
A solid looking Viking character with a red beard (branding).
Love travel, and got amazing travel stories (product)
Have a good storytelling voice (branding)
Good with words and being a writer (product)
Got a bright mind, quick in his response, and great humor (branding)
Got a well-developed intuition and people skills (income)
Have a great network of people who would kick-start his podcast guestlist
Is well balanced between everyday life grounding and spiritual awareness
His character got a vintage-style personality (branding)
These "facts" are simply the type of notes that I would make while working with someone I would run through a coaching program or business setup.
There are more details I won't type out in writing here. But it's details that will help me keep the person's character in focus, and how I can help to put together a script and plan to help boost their mindset for greatness.
Next, here's the simplified plan that we are working with right now
Step 1 - Business branding

Define the concept and decide on the name
Create the business logo
Write a few headlines and about texts

Step - Domain and website setup

Pick a domain name and register it
Set up the website
Create a business email on the domain
Set up the email marketing service (Newsletters)
Write 3 email welcome series

Step 3 - Create and establish the podcast channel

Go through the podcast tech, setup, and software
Create a trail episode for editing
Write up the podcast concept and guidelines
Record 3 first episodes for the channel
Create the podcast channel graphics
Establish the podcast production workflow

Step 4 - Register and set up the new YouTube channel

Create the channel graphics
Write and establish the channel concept and guidelines
Establish the YouTube production workflow
This step-by-step process will be worked through in the order of importance. So first things first.
Project goal: To keep start-up cost as low as possible
One of the interesting goals we set for this online business plan was to keep costs low. We wanted to try and keep the start-up expenses as low as possible to make an example of how accessible it is to start an online business without the need for too much investment.
And I suggested doing this without compromising on the quality of the services and tools we will be needing for Sean to run his business. We're not simply going to pick the cheapest apps, tools, and services we can find. But make sure he will be set up with proper tools from well-established companies.
We do this to showcase what's possible to built-in 2020 if you have a dream of living a freelance or nomad lifestyle and want a business at the same time.
Full list of services and tools we have decided on for this business
I will be listing up all the tools and services I have suggested and put together for Sean to start this online business and podcast venture. I'm also including the app we use for the planning and team tasklist on this project.
Plutio.com - Project planning and task management
WordPress - To run Sean's website and create his main hub
Divi Theme - to design and built the website and make it easy for Sean to maintain the site in the future.
MailerLite.com - To start his business email series (Sean had a great list of sign-ups already 24 hours after we launched the splash-page)
Anchor.fm - is the podcast recording and distribution platform
Canva.com - To work with website and social media graphics
This is what we're starting out with at least. Some of these tools and services may change as Sean sees it fit with how he likes to work. I will most likely suggest a CMS and project management tool like Asana or Basecamp for his startup.
We will also take a look at mobile and flexibles solutions for Sean to record his podcast. While maintaining audio quality. To make sure we get a great end result, he will be getting high-level professional editing support from one of my team members.
Head over to NivesKurjak.com to check her podcast editing services. A wonderful lady from Serbia having a passion for broadcast-quality audio. She makes her client's podcast audience enjoy a great audio experience. Now she's making the world's chess master, Gary Casparow's podcast shine. Nice client to have.
Want to see the result? Here's how to peek behind the scenes
We wanted to make it possible for people who are interested in starting Sean's business to keep up with the progress. So, we made a hashtag for that.
Both on Instagram and Twitter you can follow the hashtag #BuildingSeansBrand
The website domain has also been registered. Go and visit TheReddestBeard.com and sign up for free to stay updated with the full launch and get early access to Sean's first podcast episode!
Here's what we will reveal on the grand opening for Sean Martin's new business in a few weeks.
The full new business website
His new podcast channel URL
The new YouTube channel
The results of the cost for the start-up. How low did we manage to keep it?
Something secret… (but fun)
As we keep working on his business growth plan I will also update this article with relevant details as needed.
At last; This article was long. But I hope it made sense with the way it was put together. I wrote it to help you got some clarity, begin to think for yourself, and to show how you could consider putting a plan together to accelerate your life and live more fully and authentically.
Working from home was on the rise well before the COVID-19 crisis forced companies to vacate their workspaces. Due to the ongoing situation, the demand for remote work is greater than ever. So, which of these 7 jobs that can be done remotely would fit your lifestyle needs?
Those who'd like to make money online will be pleased to know that there are a plethora of remote jobs to choose from. There's something for workers in all kinds of industries - from marketing to education to healthcare.
Whether you're someone with basic computer skills or a tech-savvy professional, there are work-from-home jobs that fit your goals and background. As it turns out, a lot of these positions come with pay that matches conventional jobs, as well as more flexibility than most on-site roles.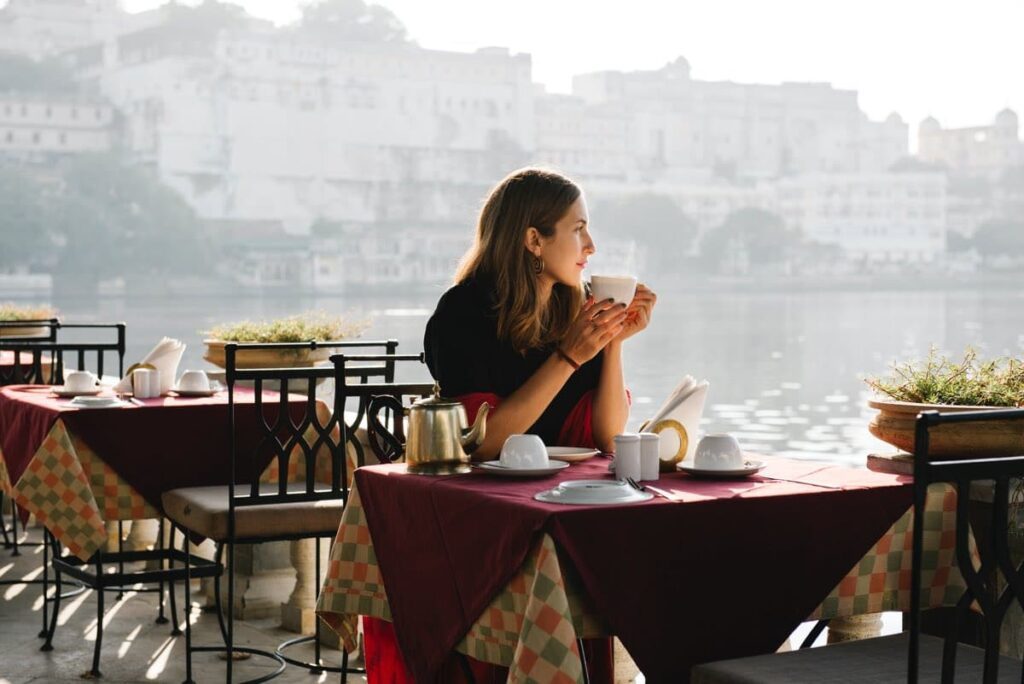 Here are seven jobs that can be done remotely
Let's take a look at possible jobs that can be done remotely you could dive into to have more freedom and flexibility.
1. TESL Teacher
Do you have any teaching experience as a tutor, or even better, as a classroom teacher? If so, you could start teaching English as a second language straight from your apartment.
TESL/TEFL is one of the most popular side gigs for those with a background in education. In fact, there's a pretty high demand for online English teachers, especially in Asia.
In most cases, a TESL employer will want you to be a native speaker of English and to have a college degree. Online teachers of English are not required to learn the first language of those they teach.
2. Writer / Editor
Blog writing is one of the most popular ways of starting to work remotely. It's a particularly great choice for folks who like traveling and sharing their experiences. However, there is a whole world of editing and writing opportunities beyond blogging.
Technical writing, for example, is among the most well-paid niches. Copywriting, on the other hand, is a fantastic choice for individuals with a marketing mindset.
For creative writers, eBook self-publishing provides a good way to earn some passive income. This type of work is particularly suitable for moms interested in working from home.
3. Social Media Manager
Big companies have enough money to hire entire agencies to manage their social media. Smaller businesses, on the other hand, usually hire freelance social media managers to do the same thing.
As a social media manager, one has to take care of things such as creating new posts and analyzing the success of the past ones. Other duties include reacting to messages and comments, as well as creating graphics and outsourcing them to professional illustrators.
The best freelance social media managers are often hired to design a whole social media strategy for a small business. And, If you're searching for SMM remote jobs, please explore the current openings at Jooble.
4. Customer Support
To become successful in this career, all you'll need is basic customer service skills and a computer with Internet access. In most cases, employers will look for mastery of simple admin tasks, the ability to work autonomously, and impeccable English.
A large number of industries require customer support, which is precisely why this is yet another expanding remote work field. Being in a different time zone than that of your employer is actually a benefit - a would-be night shift turns into a day shift.
However, the biggest advantage of working in customer support is surprisingly reasonable pay. Those with specialized skills can expect even higher salaries.
5. Accountant
A career in accounting is ideal for digital nomads who want to travel while still having a more traditional job.
While most people see accounting jobs as boring, these come with a huge benefit - they can be done from anywhere in the world. This is particularly true for niche areas, such as small business accounting, international tax preparation, etc.
With businesses adapting to new technologies, more and more opportunities are bound to open up. Furthermore, you can always market yourself to fellow digital nomads who want to get their personal finances in order.
6. Designer
If you're looking for a more creative remote job, web-based design may be a feasible option. UI and UX design, WordPress theme design, and graphic design all fall under this umbrella, and each of these requires different skills.
Breaking into the web-design field isn't as challenging as before. After all, there are tons of both free and paid resources online.
Keep in mind that this is a job with a bright future and high demand. Everybody who needs a presence to grow, a business to maintain, or products to sell needs design help. Boost your creativity by working from an inspirational home office and start making money.
7. Developer
It goes without saying, but working as a developer is best suited for those who know a thing or two about technology.
There's a huge demand for developers - it's a profession that pays. Whether you're into ops infrastructure or app development, you'll be able to work from the comfort of your own home and at your own pace.
Don't worry in case you don't have any experience with web development. The Internet holds a huge number of resources that can help you get started, no matter your skill level.
Remote work is the future. Besides the ones we mentioned, there are a lot more remote jobs available - it's up to you to determine which one you'd enjoy the most.
Picture this: You grab the laptop you already own and spend a few hours doing two things! First, dig up the BEST form of motivation you can find and achieve a winners mindset. Second, without any former knowledge, learn one easy way to make money online, have more freedom, and start exploring life. Does this sound like a plan to freedom? It is. That's why I'm writing this article from a café in Thailand.
When you're tired of your current life situation regarding work, your current job, or even school... What are your options in life?
I'm going to talk about mindset motivation and one easy way to make money online -- a creative way that lets you work from home (or anywhere!).
Tired of your meaningless life and lack of passion?
Maybe you are a free soul that is suffering because you're not interested in this conventional, mundane life that all the earthlings simply accept and go about in their everyday lives.
I get you. And it's totally fine that you are tired, unmotivated, and silently depressed from this non-passion driven and meaningless hustle. Because I've experienced the same feelings myself.
The last time I was "stuck" in a shitty job was at the local hotel in town where I worked the reception counter during the night shift.
This job wasn't just a shitty job from 9-5. It was from 11:00 PM to 7:00 AM. And it came with all kinds of misbehaving humans in the middle of the night.
To become more awake and self aware, it's time that you look into your own well-being and take care of yourself. It's time to claim your freedom, nurture your personal skills, and learn an easy way to make money online.
Let's get out of this rut and old paradigm and talk about the two things that can change your life.
Boost your mindset so you can achieve great things
The way you live your life right now does not determine your entire life. What I mean is that what you are experiencing in life right now, and how you live it, is not how it's always going to be.
Your life is determined by what YOU believe, what you think, and what choices you make every single day.
The following 3 questions are related to your mindset and they are very important.
Write these down:
What do you believe is possible for you?
What thoughts do you keep thinking every day?
What do you choose to do about your life every day?
The first thing you need to do to make a change in how you work (so that you can move your focus to start making an income online) is to begin prepping your mind for it.
If your head is full of old programming, there will need to be a shift in your focus and thinking. You may need to see and understand that you DO actually have choices in life.
The next thing is to make sure you get a proper dose of motivation every single day to keep your energy up and have the right focus.
You may also start considering your closest network of friends and family. Do they have your best interests at heart? Because they can be really good at sabotaging your new journey and plans.
What's an easy way to make money online?
One easy way to make money online is by creating websites using the computer you already have... It is a lot simpler and faster than you think!
I'm saying this because you don't need any coding skills. And you don't need any design experience. And you for sure do not need any form of education.
Creating websites has a totally different and simple workflow in 2020 than it used to a few years back. It's easy to register a domain, it's easy to install WordPress automatically, and it's easy to create beautiful web pages using website builders like Divi og Oxygen builder.
It's easier to get paying clients than you may think!
A lot of people have asked me how to land Web Design clients. This will prove to be a lot easier than you think. When you start focusing on this topic, talk to people, and get one or two websites done, things start to flow.
I'm writing this article based on one of my YouTube videos on the same topic:
More people are getting creative and are looking into how they can work online, especially COVID-19. I wanted to tell the world how I have been working for years to keep my freedom and grow my income.
No more flat salary at a job I don't like. No more getting paid ONLY when I show up at work. Now I have a few hundred dollars coming in, passively, every month without lifting a finger.
For my part, I have had a really good time during the pandemic -- never out of work, and I'm basically living the same life as before.
I work on my laptop, from anywhere, and with the same tools as usual. During the lockdown, the only difference has been less choices in cafés and places to work from.
The same can happen for you. When people know you are able to make websites, they will talk. You will have the option to make one and charge for it!
I created a course on how to earn a living making websites
So I made an online course on how you can start making a good living creating websites for individuals and small business owners. I wanted to help people who truly want the freedom to create a better lifestyle for themselves.
It's a new way of working creatively on your computer with ready-made tools and templates, while getting paid for it, by clients all around the world.
What do you get in this course?
Well, I had to focus on HOW to become a Web Designer. So, I'm including everything you need to know to start getting clients, how to get paid, the workflow you will use, what tools to use, the invoicing systems I recommend, how clients can pay you online and so much more.
I'm currently working on version 2.0 of my course to include updated content based on feedback from my tribe members and previous students in the course.
If a new way of making an income is something you're looking for, consider my course as I'm focusing on helping people become their own bosses. I help them claim their freedom to work and travel, and to spend more time on their freedom and well being.
You can check out my course HERE.
It's a no-brainer. You've got some skills and qualities that you could charge money for. Why not figure out and learn how to promote your services online, have people pay you, and then you can live happily ever after?
On Sunday, I went out to shoot a drone video to promote my girl's website services. Yeah, we're next level around here!
Whether you want to earn another stream of income or quit your job entirely, I'm here to tell you that you can and should sell your services online. How? By setting up a simple website and learning how to promote your product, you could be on your way to work freedom faster than you thought.
How I Helped Marbella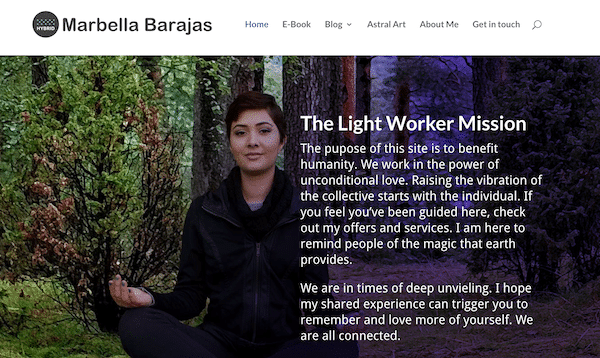 My girlfriend came to Norway about three months ago, so we could live and work on our dreams together. Of course... She got some benefits of having a Web Designer and workflow coach as a boyfriend!
I helped build out her new online platform so that she can write articles and offer services on her own online hub, while maintaining full control of her own message and business.
The truth is that setting all of this up is not hard, and it's a very low investment as a place to promote yourself and your skills. I designed her WordPress website using the awesome "Divi" Theme. A simple, magical, theme package from Elegant Themes to build your blog or business website. Divi is a visual website builder for WordPress, and I use it for all my personal and client projects.
Marbella is now writing her blog articles and publishing them on her website. And by using royalty free images, she is producing very slick and good looking website articles that promote her services and message.

Use Video Content To Promote Your Services Online
Remember above when I said I used a drone to film video for my girl's website on Sunday? Yeah, Sunday was a great day. The sun was shining, and instead of spending this boring day at home, we went out with some of my camera gear and shot some video for her website. She will be offering meditation services, both classes and private video calls.
I wanted to shoot some drone views to promote her services online and on her website.
This is something you can do also. Maybe you don't own a drone right now, but so many other people do. Simply by figuring out who in your network may know someone that has a drone, you could easily get some nice drone footage, if that's appropriate for what you want to promote.
If not, I bet you got a mobile phone?
Use that and do some short segments of video presenting yourself, your skills, and your service. Combine shots with you in the frame, places relevant for your promotion, and close ups (plus some B-rolls of your product or service).
In case you didn't know, video B-roll is various cut-in shots to sprinkle into your video.
Mobile phones these days have great quality HD video, and that is perfect for your website. When you're done with the video, use a streaming service like Vimeo to upload the video and embed it into your website.
Tip: Don't upload the video directly into WordPress! Your hosting provider may not like that over time... So it's always better to embed video using a video streaming service like Vimeo or YouTube.

Check out the video below on how the results for our Sunday drone shots came out:
How To Promote Your Services Online On A Website
I want you to sit down with a pen and paper to make a quick brainstorming sketch for yourself. If you need help with this whole package, from brainstorming, to planning and technical setup. You can reach out to me. This is what I do!
This should be your go-to checklist when setting up your services online:
These are the main steps on how you can offer and promote your physical, digital, or online services on your own platform. You don't need to invest thousands of dollars in a startup company. Your website is your business!
Also, Marbella wrote her first eBook for her specific audience, and it's doing well! So I want you to think about your top skills as the best version of yourself, and compare what you can do to the results for Marbella's website. Think about how you could create something similar for yourself, with your own branding, colors, and service.
Please subscribe to the work I do for you over on YouTube. I'll be sharing more films on how to take control of your life, level up to Self Mastery, and live in freedom and happiness.
No doubt about it, if you're a mom you are an expert at getting things done. That's what makes moms good managers. So why not channel that management skill into your own home-based business and learn how to become a "mompreneur"?
According to Ryan Westwood at Forbes.com, moms are great at creating processes that get more done during the day. That's true considering all that goes on in a household, from getting the children up and off to school, then to their various activities in the afternoon and back home in time for dinner, keeping track of doctor and dentist appointments, all while also keeping bills paid.
Whether they're married or single, mompreneurs are mothers who are raising children full-time while also running a home-based business. And the businesses they create are definitely more than just taking in laundry or stuffing envelopes (which is apparently a scam). Many mompreneurs are former application developers, accountants, web designers, and other professionals who left the business world. And some of them are using their skill sets to create home-based businesses that allow them to raise their children and make some money.
It's important to get all of your ducks in a row beforehand, including setting up a home office and repairing your credit if necessary. Should you need a loan to get things up a running, having strong credit will convince lenders to take a chance on you.
But before you learn how to become a mompreneur, create a stack of business cards and expect new clients to call you every hour, ask yourself these questions:
1. Do You Have a Good Business Idea?
Sometimes all it takes is that lucky phone call from a client of your former employer or a referral from a friend or former co-worker looking for that one thing from you that can get your business rolling. But if that doesn't happen, what's your other business idea? Jane Porter at Entrepreneur.com lists eight ways to come up with a business idea. For example, is it something that has value to someone or can it easily solve "pain points"? Or do you have a hobby or a craft that can create a product you can sell online? Regardless, make sure it is a skill or craft or ability that people want.
2. Do You Have the Passion to Create a Business?
As a mom, you probably already have the qualities of self-motivation and problem-solving skills anyone needs to run a business. But once you have your idea, it takes more than just wanting to pull in a few dollars each month to supplement your family income. Just like anyone who creates a small business, you need to have a passion for it. Can you give 100 percent of yourself every day to running the business and raising your children?
Bill Carmody, founder and CEO of Trepoint, states at Inc.com that your passion fuels your willpower to succeed and strengthens your ability to successfully start and run your business.
3. Can You Find Time to Work, Network and Balance Family Needs?
You certainly might have a great business idea and endless passion for it, but you will also need to connect with other professionals to garner business at networking events. You'll also need to find time to actually do the work, have phone meetings with clients (or actually have on-site visits) and chase down invoices to get paid. You'll need to do all of this while also taking care of your family. But like the good manager that all moms tend to be, you'll need to find some help and delegate. If your business takes off, you might be able to hire some assistance for minor tasks or even with the children or housework.
Look for ways to maximize your work time and your family time. And don't forget that it's also important to schedule downtime for yourself to keep sane and productive.
If you can answer those three questions with a resounding yes, then you're on track to become a mompreneur. It's amazing how simple it is to go the mompreneur route and start a home-based business. The teachings, tools, and methods for learning are readily available, and chances are you've already got some of what it takes. You already know you've got the skills and the management expertise, now you just need to get the ball rolling. With a little elbow grease and a plan of action, your new career is on the horizon.
How to become a Mompreneur by making websites and work from home
One of the most accessible and simple ways of making an income as a mompreneur and working from home while doing it is by creating websites.
It has become so much easier than before, and is a lot simpler than you may think. By building your own personal brand and online platform, you will have a place to connect with your customers.
Then you learn how to easy it can be to start making websites and get paid from clients all over the world.
Like I have done with my remove team, you may also come to a point where you can expand and add more people to your team. To learn more about managing that, here's 35 successful business owners and entrepreneurs sharing how they incorporated the most important management lessons they learned.
What sucks the most with your current job or freelance career? Is it the lack of well paying clients, little to no passive income, or just the work in general? Or maybe, you're doing just fine but would like a change. Let me show you how to become a Shopify Expert.
I said many years ago, "To hell with going back to a nine-to-five job again", and so it will be.
I'm also never going back to school. That industry failed many years ago. I'm talking as much shit about the educational system as I can.
Though, it is pretty obvious and well known now, but I do believe that change is happening. In my experience, its all about self education instead.
I'm addicted to my freedom and the way I'm able to work and create my own income. I'm also an advocate for growing streams of passive income.
Everything changed when I became a Shopify Partner
The main method to make this happen has been as a web designer. It's given me so much flexibility. As well as years of knowledge. You can't underestimate the valuable lessons from running your own business and working with clients.
But the biggest change happened the day I started as a Shopify Partner. I was just weeks before I had my first dollar coming in as passive income. And it kept growing ever since. Then soon after, I became a Shopify Expert.
Suddenly, I didn't have to look for work anymore. As I was listed on the Shopify website, I began having clients come to me asking for help and to work on complete projects.
This is the reason I have considered Shopify as being one of the most easy accessible, profitable and lucrative passive income platforms. I love it. And the way they take care of their partners is awesome.
There are a lot of new changes coming to the Shopify platform this year and one of them is a big update for those coming on to the partner platform. To start getting paid from clients all around the world, you will first need to sign up to become a Shopify Partner. That will give you your own dashboard where you can set up stores for new clients.
To become a Shopify Expert and get listed at the Shopify.com marketplace, you must fulfill and comply with certain things.
If I could duplicate my knowledge to you and help get this work freedom as I have created for myself. I would want to do that on video.
So I did, and I just launched my training on how to become a Shopify Expert and start earning your way up to a flexible lifestyle. Working and traveling with your laptop under your arm.
Now I want to teach you how to become a Shopify Expert
If you have been a reader of my content before, you may have noticed that I'm also doing other things. Web Design has for sure been my main income model for years. But, I have other skills I need to share with the world.
I have 17 years of martial art background, various training in sports, and leadership/organizational skills. Plus, all of the years running my own business!
Moreover, I'm an advocate for the concept of Self Mastery. This is because, I have detached myself from society's chaos, limiting norms, and confusing teachings on what reality is all about. I feel that I live with an expanded mind than what is observed to be the norm.
I'm a deep-diver into metaphysics, spirituality, and mindset training. I do this by loving the process of taking care of my own energy. Which can be accomplished by carefully choosing what I eat, read, and watch.
As one not following protocol and the common path to "success". I want to help other people take control of their lives, expand their mindset, and establish their freedom. Therefore, teaching them how to create their own income and work from anywhere.
So I created a course on how to become a Shopify Expert and Partner. This is a course on how to set up your own little freelance or work-from-home business.
You will find the course on Podia.com and from there you'll go through 7 video lessons. I'm not only showing you the steps to take on how to become a Shopify Expert, but offer some very important advice if you are a beginner.
Make a career change and work from home
I've had close to a hundred students sign up to my course just after 3 weeks. And I soon learned that many of them don't know the practical things on how to set up, when you want to work online.
I'm including a lot of how to's on that topic of training. So that your own little laptop business can be on a ready-set-go pace while traveling or comfortably at home in your kitchen.
For example, how do you get paid from clients for the work you do? What apps, tools and programs do you use? What are some important and useful practices to handle clients in a good way?
I include some good tips on how to grow your passive income every month on top of the Shopify partner revenue you will get.
Want a piece of me for private training over video?
Some people want clarity, a roadmap, be told exactly what to do, and have an accountability partner when making a career change.
Working with someone on your side can ease the confusion that comes with great change. Therefore, to try and figure things out alone will very often limit your perspectives and the level of clarity.
That's why I do on-going private coaching with a selected few.
If you go and sign up to my training at Podia.com, you will automatically be offered the option to sign up for a call with me to see if you would fit into my format of coaching.
And of course, in case the Shopify Expert Masterplan training is not what you're looking for. But still want clarity, a roadmap, and to get help with accelerating your life, feel free to get in touch.
Remember, everything starts with a thought. What you choose from today will produce a result in the coming weeks and months. It's all up to you.
More than once, I've read a powerful story in a book from an author who is not really well known. That's never mattered to me because the story in the book left a huge impression. The story quite possibly changed my life. If you want to know how to change someone's life, I'll show you. Here's how to write a book.
By knowing the value of the truth in the words you write about your story and experiences, you will greatly influence and shape other people's lives. By following these steps, you will see how exactly to do it.
At the end of this article, I will also give you some more self-publishing resources and tools so that you spend less time getting started on your self-publishing journey.
Your personal story of life struggles, adventures, and overcoming challenges is way more powerful than you think. When that story is published in a book, you have the potential to be the next big influencer shaping another person's life for the better. You simply can't predict how a person will relate to your words, your message, and the vibration of the information you are giving them.
I am writing this article because it fits within my teachings of Self Mastery—the concept my coaching and mentor programs are wrapped around. I love showing the outsiders of society's norms, those who are sick of limited educational systems and meaningless jobs, that there are other methods of creating success and earning an income.
Make sure you read this whole article, as I don't want to lose you early on in step one or two. You need to read all of what I have to say here.
My own story didn't seem so bad until the newspaper printed it
A few years ago, my sister went to Oslo in Norway to try and locate my brother among a crowd of other drug addicts. Not because she necessarily wanted to but because a big newspaper in the south of Norway wanted to tell our story.
My siblings and I come from a more or less shitty background. I didn't really fully understand that until I read about my own story in the newspaper. For the first time in my life, I had an emotional reaction to what I was reading and came to understand about us.
If you think you don't have a story, an experience, or some skills that others would like to know more about, you're wrong. Even if you consider your life to have been meaningless up until now and the only experiences you have are sitting on your couch, there must be a reason for that. And it doesn't mean you're an earthling without emotions.
Or maybe your book wouldn't be about your life but an imagined, fictional story loosely based on true life events.
My point here is that I'm going to show you how to change someone's life by showing you how to write a book. Even if you're not a "writer." What does it mean to be a writer anyway?
All you need is a keyboard or a tape recorder. Read on.
1. Change your mindset about writing a book NOW
Yes, today. Peel away any lurking and stupid doubts about how you can't write a book. If what I have been telling you so far or just the title of this article triggers you, you need to write a book. You simply don't see how it could come about. So, back to mindset.
It's all about your programming in your brain. What you THINK is true will be true for you. Whether you feel like a nobody or you're a pretty confident person, you can write, publish, and sell a book. The world's most famous writers were "nobodies" at first.
So start thinking differently. That will make you a writer. Your mindset from today on will determine the outcome of this book. But hang on, I have more for you to know about how to write a book.
2. Pick your story or topic and write out a title for your book
Transcend into fantasy land for a moment, or simply pick a story from your life or some experiences that have impacted you. You might even decide to teach some of your best (even hidden) skills to other people.
The beauty of self-publishing a book is that you are in control of your own content. So be creative. The title, for now, will be the overall guiding phrase that keeps you focused on your book's topic. You may need to do this to come up with the book idea in the first place.
The title you write out now will be a working title unless you connect with a divine spark and get a brilliant idea that becomes the final title of your book.
3. Write down your outline and table of contents
I like to simplify things. Your brain may already be trying to convince you that writing a book is a complex and slow process that will only age you. It's not. So let's take that necessary first step.
What's the beginning of your book—what happens? How did it all begin? Write a seven- to ten-point bullet list covering the main structure or chapters of the book. This is very effective, and I actually do it for my articles, like the one you are reading now. I start out with the headings because then I can simply fill in the words below each heading or chapter.
Make a note of this today, and start playing with a book outline. You only need a pen and paper to do this or your mobile device's note-taking app. Write the outline now. If you manage to complete an outline for your book today, you'll already be on your way to completing a finished book.
When can I go buy it?
4. By the power of your new mindset create a set of sacred writing times
With our list of chapters as your new book outline, brew a cup of fresh coffee, and enter writing mode. And, unless you have nothing else to do in life, you should decide on some holy-hour writing sessions a few times per week. Most of us are damn busy, and there's too much shit stealing our attention in life. Work, school, entertainment, new gadgets, and social media.
None of that is going to get your book out, and it's not going to change anyone's life. If you want to stand out, be different, and get noticed in the world, I think you would enjoy the rest of this article. Learn how to change someone's life by getting your book out into the world.
So, maybe you don't write every day but at least every other day. You should decide to write for thirty minutes, an hour, or four hours. Whatever. There's a magical formula that MAKES BOOKS COME ALIVE, and that's to not fuck around with pretending and procrastinating. I really want you to LOVE the process because that's when you make time to write.
Next, make sure the place you sit down to write empowers your desire and motivation to tell your story. If you live with your family, have kids, a girlfriend, or hang around with friends while you write, they're going to steal your magical power to get shit done. Don't do that. If you're fine with spending time at home, at least create a space to sit down and make sure the room or your writing desk is inspiring. Demand your writing time.
I love cafés. (As long as I'm not interrupted.) I think I'm famous at most of the cafés in my area for spending hours working. So I change around a lot. The thing with coffee shops is that I have people around me and a nice atmosphere to work in. This improves my writing. And I also have good coffee to enjoy.
4. Simplify the process of writing by picking effective writing tools
There are just no excuses for not writing a book anymore if that is what you desire. The tools are so simple and cheap. I will share some tips for apps and services you will need to write. Here are some of the most effective writing tools that I use.
Hardware
You don't need much. You need a computer or an iPad. For iPads and other tablets, get a wireless keyboard. I'm actually writing this article on my iPad Pro with a Bluetooth Mac keyboard. The benefit is that it's not that easy to multitask and jump around and do other stuff.
You're not good at writing, you say? Listen to this.
I'm in a Mastermind group in the US, and one of my buddies there teaches people how to write and publish books. There's only one catch in his workflow. He can't write. Seriously. I remember in 2017 when I interviewed him for one of my events, he told me that he has problems with his vision, so he struggles to see what he is writing.
The solution? He uses an audio recorder and has a virtual assistant transcribe his words for him! Amen to that hack! So what do you need for this? Your mobile phone. You can simply send the audio file to the service or individual who transcribes for you.
You can also try transcribing your voice directly by using text to speech functions. I recommend you use Google Docs for this. It's free, and it's considered one of the best methods out there. So while editing in Google Docs, you go to tools and then voice typing.
Software and Apps (with links)
With the device of your choice, you will need a program or app to write in. Your writing app should be very simple. I never recommend writing in Word and any heavy text editing software. That's because you're not supposed to be editing. This time is all about pure writing! Editing is another process, and you may even want to have someone else handle that for you.
And please—please—don't even start with the fancy colouring and sexy fonts. Let all that be for now.
One of the more famous apps for writing all kinds of content, from blog posts to books and film scripts, is Scrivener. You could say this is a text editing software, but it's better suited for comprehensive writing projects. At least, I don't edit using Scrivener anyway.
I can recommend Mac apps like Ulysses and Byword which can export to Docx format for editing later. I do like and recommend using a writing app that will sync to iCloud, Dropbox, or Google Drive so that you can access the same content on your iPhone. And yes, I do write my blog posts on my iPhone.
If you are working on a Mac, I seriously recommend going for this low price Setapp subscription. This will give you access to a huge list of useful writing apps and other tools worth thousands of dollars. Why pay full price when you can pay $10 a month? I use Setapp myself and love it.
Backup, collaboration, and syncing
When you get started on such an important project like writing your book, you should also make sure that you have backups in place. Let's not get fancy about that. If you're on Mac, like I am, you have iCloud to sync with. But since I'm doing all my writing in Scrivener, I have decided to upload my files to Dropbox. When I'm out writing, everything syncs and updates in Scrivener when I get home.
Another important note about Dropbox is that when the day comes and you want some help with editing or any other work related to your book, it's so much easier to collaborate with another person when all your work files are already there in a shared Dropbox folder.
Your book cover and graphics
Creating a powerful and eye-catching book cover is very important. So, before your limbic brain triggers you to freak out because you're not a designer, fear not! There's an app for that!
I would go to Canva.com and sign up for a free account and start playing with different book cover ideas. You will also find a load of ready-made design templates that you can use and modify to craft your book cover.
Or you could also get someone else to do it for you. And this is not as expensive as you may expect. Consider places like Fiverr.com (be picky) or UpWork.com to get someone who connects with your book and message to design a quality book cover with you. Make it with love and care.
Your book cover is the first signal to the world when readers see it on Amazon and other retailers.
5. How to publish a book through self-publishing online and on Amazon
Did you already have troubling thoughts about how this book would actually be published? Well, we are now in 2018, and your reality is shifting. Those who used to be in power are not so powerful anymore. So the first step is for you to give the finger to any publishing house.
Now, there are two main methods for you to self-publish worth considering. You can sell your eBooks yourself online from your own blog, or you can use services like Gumroad and sell your book there.
The next and most lucrative one when done right is publishing your book through Amazon. For printing your book, that's also a lot easier than before. You can have your book on Amazon and do print-on-demand through CreateSpace. Those days when you had to order a shit-load of books are over.
Self-publishing is what most entrepreneurs are doing, and this is what I recommend for you also. I won't go into details on how publishing on Amazon works and how to set this up technically because there are other resources I would like to point you to that will give you a much better step-by-step process.
But if you want to know how to publish a book1 on Amazon, here are the first steps:
Create your Amazon KDP account (Kindle Direct Publishing).
Next, sign up for your CreateSpace account. This is where you format your book and make it ready for print on demand.
Create your Amazon Author Page account.
This is of course later in the process after you have done a good amount of writing and you're getting closer to publishing your book.
At the end of this article, I share some links to very good resources you can look into that will help you further and more in-depth help on getting your book written, formatted, and published. A lot of people have done it before you and will continue to do so.
Self-publishing resources and tools for indie authors
To give you some more tips for self-publishing a book, I wanted to add in some links, resources, and tools for indie authors such as yourself.
I want to help you and show you how to write a book, then get it wrapped and published on Amazon. Amazon is where you will (of course) get the biggest exposure and leverage to become a published author.
Book marketing for self-published authors is also a topic in itself. And you'll get help on that also by checking out one of the links below.
You can come far without spending a lot of money on courses. If you follow the links below and put in the work, you'll have a finished book to publish.
Launch your book to be a bestseller
This is like a self-publishing school, and it's free. Check out what Tom Morkes offers in his training via well-written emails and clear insights to help you with self-publishing.
Jonathan Green - Serve No Master
Jonathan helps people escape the nine to five so they can pursue a more passionate life by writing and publishing books on Amazon. And he is good at it. Check out his resources here.
Chandler Bold's Self Publishing School
Chandler is a cool guy. He dropped out of school because he got tired of it. His parents didn't really approve of this, but he found that starting his own self-publishing school was more lucrative. His business helps indie authors self-publish their books and offers a program to teach you how to write a book and publish it in 90 days.
Be inspired to write and self-publish
I will end this article with that. I hope this has you inspired to see that you can without a doubt brainstorm, write, package, and publish your own book and sell it on Amazon. Or even just write and publish a PDF eBook to have people download on your blog!
Go forth, and may the force be with you.
Education methods and the way people earn an income are being completely rewritten. I love helping people stand tall and make a brand for themselves, allowing them to take charge of their own life. In this post, I talk about how to build an online platform, including the tools you need to make it happen.
Many people are taking the leap and becoming their own boss. When you're the one calling the shots, you have the freedom to set your own schedule, create stuff, make important decisions, and, not least, grow your income. Online entrepreneurship is a great career option for both the young and the experienced to pursue if they're tired of the old ways.
I know how it feels. I'm in love with the freedom that comes with being my own boss.
I love how many ways there are for someone to plant a seed and grow a passive income. You can plant several seeds, in fact, and build a recurring revenue system that feeds your bank account on autopilot every month.
In my concept of Self Mastery, I teach people not only mindset and spiritual strength but also various methods to replace the old ways of earning a living.
Because most of the souls that I coach are people "waking up" and craving a higher purpose, they often need a new way to earn a living.
How do I build my brand and income?
You might be surprised, but building a brand and income is now easier than ever.
It's 2018, and there are a shitload of tools and services that makes building an online platform pretty slick.
I recommend setting up a website with WordPress, using the Divi theme to build it so you can design most of the content yourself. Then use ConvertKit to collect your visitors' emails so you can build your tribe of followers.
[tweet_box design="default" float="none"]It's 2018, and there are a shitload of tools and services that makes building an online platform pretty slick.[/tweet_box]
That's the start of it all, and the minimum you should have in place.
When I coach and train people on how to build an online platform, I have a set of go-to solutions. I use these tools and services myself, and that's why I recommend them to my readers and followers.
Get a website, then design it to match your brand
If you don't have a website yet, I always recommend starting there. That's simply because your website will be your main hub that you own and can design to function how you want.
Don't bring your customers to a noisy café (Facebook). Take them home to your zen garden (your website), where the focus is on serving them.
Some people believe they can build a business using only a Facebook page or Instagram account. And that can work out well for a while, until the platform changes. Worst case scenario, you might lose your followers. Since it's not your platform, you can't change much other than your own content stream.
You also can't customise or add email sign-ups and payment forms to social channels (in general), which you need if you want to look professional. Make sure you are thinking about your future when building your online business.
As I mentioned earlier, I recommend using WordPress when you create your website.
You MUST have heard of it. Most websites run on WordPress now. But when I say WordPress, I don't mean WordPress.com. Instead, install WordPress on a server using your own domain so you get a clean install running the way you want it.
I'll tell you how in a moment.
What domain provider should I use to start a website, you ask? Well, there are only two providers I recommend.
One.com, located in Denmark, is a good option if you want a cheap and simple setup. It's not crap, but One.com is affordable because it's shared hosting. That means the servers' capacity is shared among other domain owners. It's a good hosting provider for startups, and they have some of the best email interfaces I have seen.
Siteground.com, however, is the hosting provider I recommend for most startups and bloggers. I use this for all my websites, and it's more scalable and flexible than other providers.
With One.com, you get both a domain and hosting in one package. When you sign up for a domain and hosting using either of these providers, you can install WordPress automatically and have your website ready in a few minutes.
How to make a professional website without a web designer
I started working as a web designer when designers were primarily using HTML coding. Holy crap. It's NOT like that now.
You can design and create the sexiest website in town by using the Divi WordPress theme from Elegant Themes. It's a drag and drop visual website builder, and I use it for all my personal and client websites now.
Divi is a slick and customisable WordPress theme that will make you look good.
If you're a pro-user, Divi is awesome for doing custom work. Go here to check out how Divi works.
There's no reason for you to pick another theme if you want things to go fast and look good at the same time. Divi also comes with a bunch of free templates, so you can create your about us, contact, blog, home page, and more with one click.
Not only that but people have built all kinds of plugins and add-ons for Divi so you don't have to customise the website yourself.
Here's how to send email newsletters in a lucrative way
Once upon a time, you may have heard about MailChimp. Yeah, it's the big weird monkey that's been the go-to service for sending email newsletters.
Not anymore. I used it once, then I found out about ConvertKit.
I fell in love right away, like so many other hotshot names and bloggers in the industry.
And for good reason.
Last week, one of my regular clients asked me to set up an email form on her Shopify online store. She wanted to send email newsletters to her buyers.
She talked about using MailChimp when she wrote to me, but I said I can't recommend using their service. I told her to try ConvertKit instead. She refused. After a week went by, she emailed again asking how the hell MailChimp works!
ConvertKit is the simplest email marketing platform that I know of. It's professional, fun, simple, and damn effective. Trust me, you want this.
How to charge payments for online services
There are two main methods I talk about when explaining how to charge payments for online services.
Sometimes you need both, like I do.
Sometimes you want to send an invoice to clients. Other times, you want clients and private users to pay for monthly recurring services, or make a one-time purchase. In that case, you need a payment form on your website.
You can also set this up yourself.
Invoicing for online services or selling online products is easy. Try FreeAgent (invoicing + accounting), Invoice2Go (invoicing only), or WaveApps (invoicing + accounting). With each service, you can send your buyers and customers PDF invoices.
If you want to give your customers the ability to pay you with a credit card, the options above support Stripe. Stripe is the industry standard for credit card payments and is supported by most platforms. Setting up a Stripe account is free, and Stripe has no monthly fee.
As for embedding payment forms on your website, I have been VERY picky about the way things look. I also need an online payment form that allows me to send PDF receipts to my buyers, especially for those clients who make monthly recurring payments.
For this, I use ThriveCart, which is getting damn popular. If you are lucky, by the time you read this post there may still be an open (limited) lifetime access purchase of ThriveCart before they fully launch.
Last, what can you offer your visitors for free that will help them?
This is the last thing you should consider when building your online platform. When a visitor comes to your brand-new WordPress website, you should make sure they'll want to hear more from you.
If you do that, they can then register on your email opt-in form using ConvertKit, which will automatically send your visitor something they want.
…maybe a picture of your aunt, picking apples naked in the garden?
Could you offer a free consultation call? Or could you offer a PDF guide, roadmap, e-book, online course, maybe a picture of your aunt, picking apples naked in the garden?
Just kidding—checking if you're still with me.
Be creative with your freebie opt-in. What do you know a lot about, and who do you want to help? Make something useful for those people and have them join your email list to get it.
Want another tip? Or maybe you'd like several, packed with some ready-made to-dos on exactly how to build an online platform and create your business?
If you're looking for a business partner to make sure you stay on track, then we should talk.
[et_bloom_inline optin_id=optin_8]

How often have you felt like a wet cloth, just laying there? After realizing that hours, days, and months of work just went by and your progress is so ridiculous that you just cry for a group-hug. ZHow to focus on what matters and win back your precious time.
For creative people, freelancers, entrepreneurs and outsiders of the norm who struggle with the 9-5 and bad education, we're on our own.
I mean in the sense that we don't follow the conventional system where we are told what to do, focus on, fulfill and complete.
So when we set out on our journey, seeking happiness and freedom at the same time as we wish to make use of our skills and build our own income from it, we tend to bounce all over the place at times.
One of the most beneficial traits people like us should practice and slap our faces to keep on track with is FOCUS.
Focus condenses time and raises its value
We have the freedom to play, try out new things, stumble over stuff, lose focus, jump into new ideas, creative works, and simply decide to not-give-a-shit, at times.
So the result of that is creating "fast time". You look up from your desk to visually navigate the current moment of your reality only to discover you made shit-progress. And for some super-weird reason, at the same time, you made a quantum jump into a parallel reality, in the future.
Being captivated and focused on cool stuff is wonderful. But not when that focus is spread out into 11 different areas or totally different goals or projects.
[tweet_box design="default" float="none"]Focus condenses time and raises its value.[/tweet_box]
I think to be creative and blissfully fascinated like a newborn baby cow in the spring, bouncing all over the place, can be a good thing. But usually, we want something out of life. We got goals and dreams, and grind on a few tasks that will bring us closer to them.
Unless those tasks you invest your time on got nothing to do with each other.
Being busy is kind of a cool thing when talking about being a business owner, online entrepreneur and self-made-salary freelancer. But those with experience will tell you that it's not the busy-ness that's cool, it's working smart and actually achieving stuff that rocks!
Life deals with one currency only: Your time being here
It's a pretty valuable currency that you can spend as much as you want, with. But what crap are you investing your time in?
How do we win back time for what matters in life?
And how do we invest this time in something that gives us the sense of purpose and reason, so we channel the best part of us into our chosen areas of life? [tweet_dis]That's a clue! You want to CHANNEL your-best-self.[/tweet_dis]
Important Clue Number One
I know for myself that I have a lot of interests. I'm good at many things. I know I can create, handle, dive into, manage, maintain, entertain, and have fun with a lot of, stuff.
But I also know that if I spend too much time on many of these things, I wouldn't be happy. In the long run, it wouldn't make sense. It wouldn't align with my true core and deepest purpose.
And for the last years as I have spent more time connecting with this purpose.
My method of staying free in my work, to have the freedom that I want and not stay stuck fiddling with some shit-job to serve another master, has been my craft as a Web Designer. I have loved it.
But I came to a point where I was missing something.
Another big life arena of mine has been my 17 years of martial arts. I have been a trainer for 15 years, and I leveled up to my 1.Dan black belt degree, spring 2001.
As I spent time figuring out what the hell got me in the flow, giving my the juices and innate power to shine, I discovered a clue. Every time I had client or work meetings where I shared my knowledge, I snapped into a mentor slash coaching role. Almost every meeting.
This became especially evident when I had moments where I could go deeper with the person and bring valuable and deeper life lessons.
The clue here is to make sure that the time you invest and spend your mind-energy and focus on should align as close as possible to your true core values.
We can play around with many things, and we should. But that area of your life where you need to invest the most, especially to make an income, have to hit home with your innate, maybe hidden qualities and skills.
Important Clue Number Two
So the day you drop all your clothes, scream eureka and bounce happily out into a field of crops high on your self-discovery, that's also the day you will have to take inventory on where to distribute your time.
[tweet_dis]To win back time and make significant progress in your journey, limit the number of cups you're trying to fill up with your brain-power-juice.[/tweet_dis]
Focus. It means focus.
Now that you know you're investing time and energy in life-goals and business projects that are more aligned with your super-human self, you will make damn-fast progress as long as you are limiting your tasks, focus on your goals, and make sure you complete them!
[et_bloom_inline optin_id=optin_8]
There's a much bigger chance of you actually fulfilling your goals and dreams now since there is more soul-energy into the driving factors.
So, to abruptly end this post without any more fancy-talk:
Make sure you dive deep to get closer to your hidden purpose and skills
Limit your focus to a few selected tasks that will take you to your goals
Hail to your awesomeness.